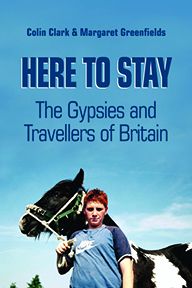 Here to Stay
The Gypsies and Travellers of Britain
Author: Colin Clark, Margaret Greenfields
Price: £14.95
"
"For anyone who wishes to teach undergraduate courses for teachers, lawyers, local authority workers, planners, policy-makers or journalists - or Traveller community activists themselves - this will be the first item on the reading list."
Not currently available.
About the book
"This book is a must for anyone wanting to understand the situation of Gypsies and Travellers in Britain and their struggle for justice." Sarah Cemlyn, Community Care
There is growing public interest in who Gypsies are, where they come from and how they have survived centuries of discrimination: all questions answered by this completely new edition of the standard introduction for professionals, first published as On the Verge (1990 and 1995) and Moving On (1999).
More about the book

The book looks at Gypsy and Traveller family, community and identity. It asks whether they are "moving on or here to stay" by considering government policy on sites and local authority provision, the conflict between the planning system and the establishment of privately owned sites, and by looking at the possibility that the move into bricks and mortar might not necessarily mean their extinction as a separate community.

Their place within wider British society with regards to the law, health and the media is considered and the work concludes by looking at human rights and the European dimension.

About the Author/s:

---
ISBN: 978-1-902806-33-4 Format: Paperback, 400pp Published: May 2006
Any questions
Contact us at UH Press if you have any queries or would like to find out more about this book.