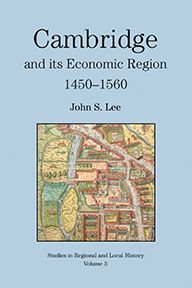 About the book
"Lee's study is notable for its thoughtful and sensitive use of a wide range of sources ... [this study] will be of interest not only to historians of Cambridge and its region but also to those concerned with the role of towns in the development of regional economies in the middle ages and beyond." Ben Dodds, University of Durham
"Translating a Ph.D. dissertation into a book is no mean task, but John S. Lee has achieved the feat admirably. The book is clearly and methodically presented, in an easy-to-read narrative way." Michael Potterton, Journal of Economic History
"Throughout the book the author explores the economic relationships between country and town... The analytical approach is admirable: if it can be counted, tabulated and mapped, then it is. Rarely can a solid doctoral thesis have been presented to the public in a more accessible form." Alan Dyer, English Historical Review
Using taxation records and details of purchases made by the Cambridge colleges and other institutions, a picture of the town's trade emerges and the population and wealth of Cambridge and other towns and parishes are compared.
The University expanded considerably through the fifteenth century and new colleges were founded, all adding to the thriving local economy. The extent to which trade with London stimulated the development of the malt, barley and saffron trades during the later fifteenth century is analysed.
More about the book

The markets and fairs of the region are studied as is the supply of food and fuel to the town and the price of wheat. The land and labour markets are also examined in detail and the impact of the college building projects taken into account.

A detailed picture emerges of the economic activity of a key English town and its region in the late medieval period. Contributing to an interesting debate on urban decline, this book questions assumptions that regard this period as one of economic transition.

Containing photos, illustrations, charts, tables and maps, it offers new insights into early economic development in England.

"Translating a Ph.D. dissertation into a book is no mean task, but John S. Lee has achieved the feat admirably. The book is clearly and methodically presented, in an easy-to-read narrative way."

Michael Potterton, Journal of Economic History

"Throughout the book the author explores the economic relationships between country and town…The analytical approach is admirable: if it can be counted, tabulated and mapped, then it is. …Rarely can a solid doctoral thesis have been presented to the public in a more accessible form." Alan Dyer, English Historical Review

"Lee's study is notable for its thoughtful and sensitive use of a wide range of sources ... [this study] will be of interest not only to historians of Cambridge and its region but also to those concerned with the role of towns in the development of regional economies in the middle ages and beyond" Ben Dodds, University of Durham, Archives 31

"This well-written and engaging book should be read by anyone with an interest in the social history of England in this period" Chris Galley, Local Population Studies

About the Author/s:
ISBN: 978-1-902806-52-5 Format: Hardback, 400pp Published: May 2006
Any questions
Contact us at UH Press if you have any queries or would like to find out more about this book.